Krylon® Products —
fine arts clears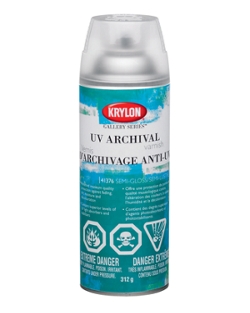 UV Archival Varnish
UV Archival Varnish contains Hindered Amine Light Stabilizer (HALS) and UV Absorber (UVA) for the maximum in UV protection.
Advanced non-yellowing protection against fading, dirt, moisture and discoloration
Contains superior levels of UV light absorbers and stabilizers; removable for conservation purposes
Choose gloss level to provide invisible protection; acrylic - semi-gloss or satin, watercolor - matte, oil pastel - matte, colored pencil - satin or matte, oil - gloss, digital prints - semi-gloss or matte.
---
Product Information
The colors that appear on the screen and in print may not match actual applied color.
Dry to touch:
10-15 minutes
Dry to handle:
After 2 hours
Coverage:
15-20 square feet
Application Conditions:
50-85 degrees, low humidity; do not use in high humidity
Clean up:
Mineral spirits