Krylon® Products —
adhesives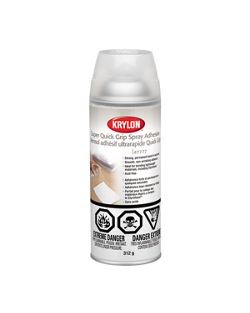 Super Quick Grip Spray Adhesive
Adheres lightweight surfaces in seconds and dries strong and permanent. Creates a smooth, flexible, non-wrinkling bond.
Fast tack: dries quickly
Strong, permanent bond in seconds
Smooth, non-wrinkling adhesion: Acid free
Ideal for bonding lightweight materials, including craft foam
Dry to handle:
3 hours: 8 hours for porous substrates
For use on:
Paper, Fabric, Plastic, Wood, Paper Mache, Metal, Ceramic
---
Product Information
The colors that appear on the screen and in print may not match actual applied color.
Dry to handle:
3 hours: 8 hours for porous substrates