Krylon® Products —
rust preventative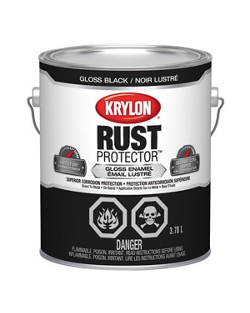 Rust Protector™ Rust Preventative Enamel - Gallon
Rust Protector™ Brush On Enamels provide direct to metal corrosion protection. The fast drying formula delivers a tough finish that really lasts.
Smooth, durable, rust-fighting finish
Superior corrosion protection - with or without primer
Dries in 60-90 minutes
Oil-based
For use on:
Metal, Wood, Masonry, Concrete, Wicker, Ceramic, Glass, Plaster
---
Product Information
The colors that appear on the screen and in print may not match actual applied color.
Dry to touch:
60-90 minutes
Recoat Window:
After 12 hours
Coverage:
Up to 125 square feet
Application Conditions:
40 to 80 degrees; low humidity
Clean up:
Mineral spirits or lacquer thinner