Krylon® Products —
special purpose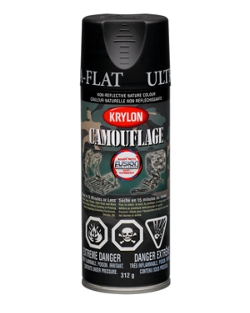 Camouflage Paint made with Fusion for Plastic® Technology
This ultra-flat paint is non-reflective to provide the ultimate camouflage.
Bonds to most plastics, PVC, hard vinyl, ceramic glass, wood, metal and wicker
No sanding, no priming; ultra-flat, non-reflective colors
Ideal for sporting and hunting equipment, decoys and more. Not for use on skin, hair or clothing
Fully chip resistant in 7 days
For use on:
Wood, Metal, Wicker, Wrought Iron, Plastic, Hard Vinyl, Glass, Plaster, Ceramic, Paper, Paper Mache
---
Product Information
The colors that appear on the screen and in print may not match actual applied color.
Dry to touch:
15 minutes or less
Dry to handle:
After 1 hour